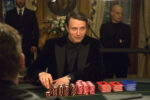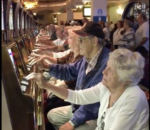 Casino Meme Formats in Our Generator
The following casino meme formats/templates are available in the meme generator above.
Casino movie meme template
Old people at the casino meme template
Casino Royal meme template
Keep gambling meme template
90% Sopranos meme template
Gambling addict meme template
Stop gambling meme template
Digging for diamonds/never give up meme template
Casino Meme Templates for Download
Here are the casino format image files if you want to use your generator to caption the meme templates.
The Origin of Casino Memes
It all began in the realm of satire, where a 2013 whimsical article from The Onion spun a yarn about gamblers quitting right before hitting the jackpot. This tickled the funny bone of an internet denizen who crafted a meme encapsulating this ironic truth, and voila!
The meme chariot was set in motion which was one of the most popular memes along, casino royale, old people at the casino, and the Sopranos gambling meme.
As time ticked on, the allure of casinos, with their glitz, glamour, and the ever-present promise of fortune, found a humorous mirror in the digital world. The meme maestros didn't hold back; they delved into the irony-rich vein of gambling, mining it for comedic gold. Enter Gamblecore or Casino Irony, a genre born to poke fun at the highs and lows, the hopes and despairs of the gambler's journey, all wrapped up in low-res video glory.
The crescendo in this symphony of satire was reached when social media platforms, our modern-day agora, embraced these memes with open arms. Twitter and Instagram became the hotspots where casino memes found their adoring audience.
These platforms acted like the digital equivalent of a hearty belly laugh shared among friends over a near miss or a surprising win at the slots.
For more casino content, go to our online casino section.
And oh, the plot thickens with the advent of online gambling, which brought along a fresh deck of humorous observations, all ripe for meme magic. The ability to gamble while lounging in pajamas, coupled with the rollercoaster of emotions it entails, turned into meme fodder, relished and shared across the cyber realm.
From the simple irony of quitting before the big win to the quirks of online gambling, casino memes found their jackpot in the human ability to laugh at the whims of fortune.