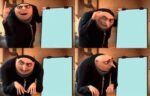 Create a meme with the best Gru meme maker!
Gru Meme Formats in Our Generator
The following Gru meme formats/templates are available in the meme generator above.
Gru gun meme
Tickets to "Minions: Rise of Gru" meme
Gru presentation meme
Gru Meme Templates for Download
Here are the Gru format image files if you want to use your generator to caption the meme templates.
The Origin of Gru Memes
Ever stumbled across that meme with the big-nosed bald dude, looking super confident about a plan, then getting completely baffled by his own ideas? Yep, that's Gru from "Despicable Me" and boy, did he become the poster guy for all our well-intended fails!
So, here's the scoop: "Despicable Me", the movie, gives us this scene where Gru, our not-so-evil evil genius, excitedly presents a heist plan to his minions. He uses a fancy flip chart, laying out steps that seem brilliant initially, but then… oops! The last panel? Total backfire. It's like when you think you've got the best idea ever, and then it hits you… "Wait, what?!"
And boom! The internet saw that scene and said, "That's it. That's my life in a meme." Suddenly, Gru's flip chart was everywhere, with people using it to hilariously map out anything from failed weekend plans to pop culture predictions gone wrong.
What made it pure meme gold? Relatability, baby! Who hasn't thought they had everything figured out, only to realize there's a MASSIVE flaw in the plan? Gru's confused face was all of us trying to adult.
Plus, let's be honest, there's something about watching a big, bad supervillain get utterly bamboozled by his own thoughts that's just… chef's kiss. It's like, "He might be planning world domination, but he also can't remember why he walked into a room. Same, Gru. Same."
So, from an animated family flick, Gru's plan gone wrong became the stuff of meme legend. Every time you see it, it's a sweet reminder that, hey, we all have our "Wait, what?!" moments. Hats off to Gru for helping us laugh at life's little blunders!